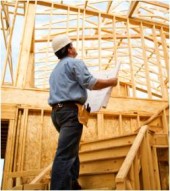 Included in every estimate for any construction or renovation project are overhead costs which are generally added as a percentage to sum of labor, material and equipment.
Overhead costs amount to a sizeable portion of the cost of any project and failure by the contractor to adequately project these costs can make the difference between a profitable project and a failure.
Overhead costs are split into two categories, general overhead or indirect costs and job overhead or direct costs. Both of which are covered in more detail below.
General Overhead Costs (Indirect Expense)
Costs included in general overhead are those not readily chargeable to one particular project. They constitute the contractor's cost of doing business and any fixed expenses that are paid by the contractor.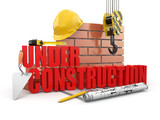 These types of expenses are shared proportionally across all projects depending on their size.
The contractor will base this on their average annual expenses and will then convert that to a percentage of the total annual business. Items included in a contractor's estimation of indirect overhead costs are as follows:
Office Expense – This category would include any office rents or lease expense or if their building is owned, the cost plus a return on their investment. This also includes office supplies, utilities, insurance, phones, office equipment, furniture and taxes.
Staff Salaries – Part of the indirect overhead costs includes the salaries of employees such as executives, purchasing staff, bookkeepers, estimators, administrative staff or anyone else working in their offices and not directly employed on a specific project.
Miscellaneous Indirect Overhead Costs – These would include travel expenses, legal fees, marketing and advertising, any contracted professional services like auditors, club or association dues or any charitable donations.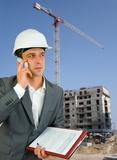 Depreciation Expense – Any expenditures for office equipment or any other company owned construction equipment would have a percentage written off each year as part of a general overhead expense and the cost of doing business.
As an example, let's say a contractor does $1,000,000 in business per year. He calculates his annual expenses for operating that business to be $50,000. As percentage of his annual business his general overhead expense would be 5%.
If this contractor has a construction project with an estimated value of $150,000 then the general overhead chargeable to that specific project would be $150,000 divided by $1,000,000 multiplied by $50,000. The general overhead costs included in the estimate for that project would then be $7,500.
It stands to reason that smaller contractors will have less general overhead costs and larger contractors will have more. For larger construction projects, the indirect overhead costs may be lowered to provide a more competitive advantage when bidding work.
Contractors may also choose to bury a portion of the indirect overhead percentage by charging a larger percentage in fee.
Job Overhead Costs (Direct Expense)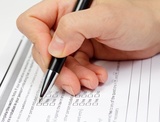 Job overhead costs are also known as General Conditions expense and includes all costs that can be directly charged to a specific project.
These are items that are unique to the project and are required to successfully construct the project.
Job overhead costs or general conditions are in addition to the indirect or general overhead costs. Items that may be included in job overhead are as follows:
Project Specific Salaries – These differ from the office salaries and include wages, payroll taxes and benefits paid to employed project superintendents, foreman, field engineers, project schedulers, and other employed on-site staff. These costs include reimbursable expenses like travel or per diem expenses. These costs are estimated based on a burdened hourly, weekly or monthly rate multiplied by the amount of time that individual is expected to be on the project.
Temporary Office Facilities – A construction trailer, owned or leased, leased office space plus utilities and office equipment required for the field staff to conduct business and meetings. Contractor may also be required to project temporary office space for an outsourced architect or owner's representative. In the instance of an owned construction trailer, the contractor would still make a charge against the project for equipment depreciation and small return on investment.
Other Temporary Enclosures – Any temporary structures like tool sheds, on-site container storage, temporary barricades, railing, ramps, walls or protection would be a direct overhead cost.
Temporary Utilities – Hydrant meters, temporary water, heat, electricity, generators, fuel is a direct cost. The contractor may be responsible to provide all light and power for both workers in his direct employ and for that of outsourced trade contractors. This would include temporary power poles and transformers plus electrical energy usage. If the project requires heat for working in winter months, the cost for portable heat generation would be a direct project cost.
Sanitation Facilities – Temporary toilet facilities need to be provided for workers. The cost of rented toilets is a direct project cost.
Drinking Water – Costs for drinking water for on-site staff and workers including cups and maintenance may be charged as a direct cost.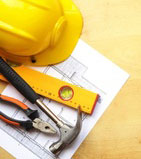 Other Miscellaneous Direct Expenses might include project photographs and signage. Surveying and project staking. Cleanup both daily and project final clean are reimbursable direct expenses as are any cold weather expenses like heating concrete, tenting and heating enclosures, snow removal, pumping, soils testing and material testing and inspection. Building permits costs and any local governing authority fees like after hours inspections or fence permits are direct overhead costs.
Many contractors will include money to cover contingency costs for unknown issues like sidewalks, trees or adjacent structures damaged during construction. More times than not new work will get damaged during the course of construction with no one on site admitting to the damage so the contractor will include money in his costs to cover these items. In the instance of a lump sum contractor, any unused contingency then becomes additional fee for the contractor.
Tagged with: construction markup • define general conditions • define overhead costs • general conditions • overhead costs of construction
Filed under: Cost Estimating