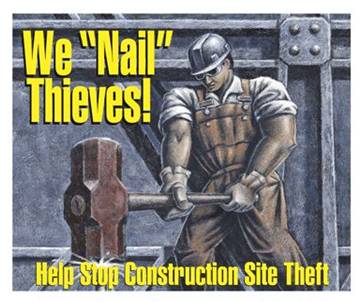 Metal theft is not something new to the construction industry but with high unemployment and a less than thriving economy, it is on the rise.
The price per pound today for stolen copper is upwards of $4.00 per pound versus about $0.80 a few years ago.
There's more of a demand now than ever for aluminum, brass, copper, bronze and other metals due to the increase in value of these common construction metals.
Construction projects are ripe as a source for these metals because they can be turned quickly for fast buck at recycling centers.
Metal theft can be minimized on a construction site by providing better security measures but it all boils down to cost.
With owners wanting the best value for their dollar and contractors forced in a down economy to trim costs to be competitive, site security is often compromised.
The millions of dollars in construction metal theft each year impacts not only the cost of construction but also the cost of insurance premiums paid by both owners and contractors.
This is also reflected in the cost of building materials, impacts to construction schedules and the overall cost of the project itself.
Still it's hard to sell today Benjamin Franklin's old saying "an ounce of prevention is worth a pound of cure" and many owners and contractors prefer to take their chances.
12 Tips to Prevent Metal Theft
Preventing metal theft starts with taking small steps to improving construction site security. With so many trades on a construction project and each subcontractor responsible for securing their own items, there are steps that can be taken to provide a partnered approach for all parties.
1)  Improve site fencing and lighting – screening site fencing will make on-site tools and equipment less visible. Rented site lighting to keep the site illuminated will aid in deterring thefts.

2)  Secure material staging areas with fencing topped by barbed wire, if possible. This is a much smaller area than any rented fencing surrounding the entire site perimeter.
3)  Only permit certain individuals to have access to materials in lieu of the materials exposed and readily available to any trade or anyone during working hours.
4)  Ensure the last person off the site secures the site fence. Often trades will have access to the site after hours without the presence of the general contractor. Having an end-of-day security plan for trades working after hours may help in preventing metal theft.
5)  Work with local law enforcement to get additional patrols by the site in off-hours, weekends and holidays.
6)  While many residents around a construction site don't like the inconvenience of the noise or the added construction traffic, think about partnering with the residents. Asking the residents at a community meeting for their cooperation in being vigilant and reporting any suspicious site activity may provide some positive results. They won't want any crime in their area anymore than a contractor or an owner wants it on their construction site.
7)  Invest in on-site storage containers. Storage trailers or Conex boxes are fairly inexpensive to rent monthly and provide good security.
8)  Don't have materials delivered to the jobsite well in advance of when they're needed. To have materials on site too early is just inviting temptation. Sadly, many construction metals thefts are "inside" jobs perpetrated by the vary trades or acquaintances of the trades hired to work there.
9)  Keep tools, materials and gang boxes in locked rooms of structures or in basements where they are not so accessible after hours. Control access to storage areas.
10)  Post signs on site fencing that clearly states any thefts will be prosecuted.
11)  Hire jobsite security. If the budget doesn't warrant security throughout the project, then at critical projects stages or near completion where theft and vandalism is more likely to occur. Contractors may consider partnering with trades in a shared cost during contract negotiations.
12)  Consider posting signs offering a reward to anyone reporting metal theft or theft of any construction material or equipment.
Filed under: Caution