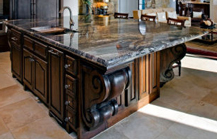 One of the more dominant features, when considering kitchen remodeling ideas, are your kitchen countertops.
Aesthetically pleasing kitchen counters are important but it should also be highly functional and tailored to your lifestyle.
Listed below are some of the more commonly used materials for kitchen countertops along with pros and cons for each.
If you're on a budget, there are plenty of quality options that can give you that premium look and are every bit as durable and functional as some of the costlier options. These laminates and man-made options will give you the look of the real thing.
Countertop Materials Options for Consideration
Natural Materials – Using natural elements for countertops was once a luxury few could afford but today, it seems to be a design feature, offered as a standard option in many new homes.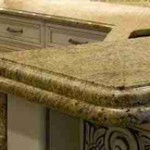 Common natural stone selections include granite, slate, marble and soapstone as options.
Some are more expensive than others but many homeowners can't get enough of the natural, organic and upscale appeal they add to their kitchens.
While no two pieces of natural cut stone are the same, which adds to it look, natural stone countertops share the downside of porosity.
If not properly sealed, they can easily absorb liquids and oils and are susceptible to staining.
Natural stone selections will require a special cleaning technique using only specific products. Just using a standard all-purpose kitchen cleaner can damage your stone.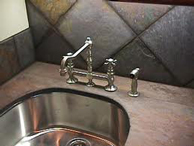 Slate is definitely a unique product for use as a kitchen countertop. For years it was thought of only as a flooring option but has picked up steam as a popular counter selection. This is a sexy, natural material and can lend some great appeal to any kitchen space. Slate is derived from clay drawn from ancient sea beds.  It can be polished or matte textured.
Did you know that kitchen counters are also made from lava stone? Volcanic lava that has transformed into a stone-like solid is covered with enamel, and the overall look is similar to that of glazed ceramic tile.
Budgeting Your Kitchen Remodeling Ideas
From a cost standpoint, here is the range you can expect to pay for some of the natural stones along with some of their unique characteristics:
SLATE – Prices will start around US $45 to $65/square foot uninstalled and can be as high as US $150/square foot installed. Slate has a tendency to chip and break, especially around its edges. It can be brittle and scratches easily but is relatively durable when treated with care. It is quite heat resistant and does not stain easily.
SOAPSTONE – Prices are usually over US $75/square foot and can get as high as US $150/square foot depending on how it is fabricated and the thickness. Soapstone is very durable and heat resistant. It will not retain stains like other natural stones but it will scratch. Scratches, however, are fairly easily removed.
LAVA STONE – This is mostly produced in France by a limited number of suppliers and can cost upwards of US $225/square foot installed.
LIMESTONE – This is similarly priced to Marble and you can expect to pay between US $150 to $250/square foot installed. Limestone is a softer stone and very porous which makes it prone to damage.
MARBLE – Depending on grade and quality, you can expect to pay between US $175 and $250/square foot installed. Marble is softer than other natural stones and it will still wreak havoc on your glassware. Any spills need to be wiped up immediately to prevent permanent staining.
GRANITE – Depending on thickness and grade will cost upwards of US $125/square foot. Granite is not a particularly green product as it is mined from deep within the earth and is seldom recycled. Energy costs associated with the transportation of this material also has a negative impact on the environment.
WOOD has long been a popular choice for butcher blocks and kitchen islands. They make a wonderful kitchen renovation option, too. A variety of wood countertops are available in several stains, but as with natural stone, they require extra effort in order to maintain their beauty
MANUFACTURED STONE countertops are growing in popularity for those who do not have the budget for the real thing. They mimic the appearance of natural stone without some of natural stone's less desirable features like extra maintenance. The man-made stone tops are also less porous than their natural counterparts (no pun intended).
CONCRETE is one of the newer kitchen countertop trends. It's extraordinarily sturdy, and because of its slightly rough appearance, dings and dents are no big deal. Plus you can choose from an assortment of textures and colors. Acid washed concrete can take on all the colors of the rainbow but a concrete countertop will not fit with just any style or theme you've may have chosen for your kitchen remodel design.
Man-made materials – Clearly the front runner, there is something to be said for the affordability and diversity of man-made countertops.
As an example, let's take laminate material. It's been featured in kitchens for decades and is still a very popular selection.
In fact, the technology surrounding the manufacture of laminate is constantly being improved with an almost unlimited selection of colors and textures now available.
As an affordable option, laminates do chip in excessive use and are not very heat or chemical tolerant.
Stainless steel countertops are common in industrial and commercial kitchens, as well as kitchens with a more modern, sleek design.
If you are not a fan of the shiny, silver appearance, there are several other metal kitchen countertop options like copper or pewter, both of which are very expensive.
Where do you start?
Including the right countertop in your kitchen remodeling ideas is not a decision to be taken lightly. You have many selections from which to choose and all will make beautiful surfaces and enhance the appearance of your kitchen while complimenting your lifestyle. To help make your decision a little less overwhelming consider these tips:
Write down the pros and cons of each of your preferred choices
Keep your budget in mind…will the cost of your counter be at the expense of something else in your kitchen?
Remember that upgrades to your kitchen only represent 5% to 15% of your home's total value
How much maintenance are you willing to undertake to achieve a look?
Will your new countertops serve more of a "work" function or "show" function?
Will your selection stand up to everyday use if you have a busy household?
Kitchen counters and countertops are a very visible component when you think about any kitchen remodeling ideas. You will need to make a selection that is visually appealing, within your maintenance tolerance, suits your lifestyle and accomplishes all of this within your budget.
Tagged with: concrete countertops • granite countertops • kitchen counters • kitchen remodel • kitchen renovation • kitchen renovation design • marble countertops • slate countertops
Filed under: Build Help