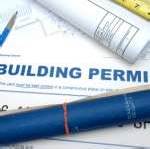 Whether performing remodel work or new construction, when a contractor does not pull permits you are at risk for penalties, code compliance issues, possible tear out, the cost of rework and potentially the loss of a home sale.
Homeowners not only remodel or renovate their homes to accommodate an expanding family or to update finishes but many renovate to increase the value of their home for future sale. Depending on the type of renovation, and whether the homeowner chooses the do-it-yourself option or hires a contractor, certain scopes of work will require construction permits.
Failure to obtain necessary construction permits by either you or your contractor may become a safety issue or an unexpected expense far in excess of the cost of the original building permit.
Pitfalls of Not Disclosing Unpermitted Work
If the do-it-yourselfer or a hired contractor does not pull permits for scopes of work requiring same, the homeowner becomes the responsible party with many times no penalty to the hired contractor. The local governing authority establishes how penalties are assessed. For example, penalties can range from assessing a homeowner double the original fee to tearing out completed work for inspection.

While passing off unpermitted renovations to a potential unsuspecting home buyer is nothing new, the seller's maneuver will often be exposed by a qualified home inspector. If discovered, you may be required to provide evidence of valid permits for the work on file with the local governing authority.
What sellers likely forget is that recorded deeds and assessment documents contain legal property descriptions. Adding an enclosed porch, an extra bedroom, closet or bathroom may send up a red flag to those reviewing the recorded documents.
Real estate agents, the potential buyer and the mortgage companies may be willing to proceed without involving the local governing authority, however, would you be willing to take that risk? You may find yourself on the receiving end of a post-escrow lawsuit by the buyer.
In another scenario, not reporting permitted or unpermitted modifications to your insurance company could result in loss or denial of coverage should you file a claim for damages against that work at some point in the future.
Examples of Common Building Permit Exemptions
Knowing whether or not your renovation/remodel work will require a construction permit can be confusing if not a little overwhelming if you're doing the work yourself. If hiring a contractor to do the work, then the licensed contractor you screen and select to perform the work should be versed on the scope of work that needs permitting. To put things in perspective, here are some examples of work not typically requiring a trip to your local building department to pull a permit.
Tool, storage sheds or playhouses under 120 square feet
Driveways or walks not more than 30 inches above grade and not over any structure or basement below
Cabinets, molding or floor base, paneling, floor coverings, wallpaper, countertops or similar interior finish work
Fences under 4 feet in height without permanent foundations
Retaining walls under 2 feet in height
Window awnings supported by an exterior wall
Non-motorized outdoor yard play equipment like a swing set
Portable spas only if mechanical heating and circulating equipment is integral to the manufactured unit
Storage racks under 8 feet in height
Repair of interior or exterior lath under 30 square feet unless framing needs repair as well
Replacement of roofing materials only where no structural replacement or modification is needed
Repair or replacement of interior or exterior doors as long as they are the same size and type as the original installation and no structural modifications are needed
Repair or replacement of windows as long as no modification is required to existing wall framing and that the glazing of the window is the same type, size and thickness as the original installation
Repairing of leaks in pipes, valves or fixtures as long as repair or replacement does not require rearrangement of piping or valves or complete removal and replacement with new material
Scope Types Typically Requiring Construction Permits
Generally the three main categories of work that will require planning,  code compliance, inspections and construction permitting are mechanical, electrical and structural modifications, renovations or new construction.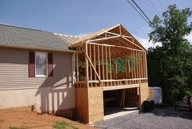 Any time you change the existing footprint of your home you'll need a permit. This includes but is not limited to adding a bathroom, room addition, closet, garage expansion, carport or most decks. Your original structure is engineered to carry a certain load. That load is distributed through load-bearing walls or components as part of the original design.
Adding or changing that original structural calculation affects the structure as a whole. While adding new windows sized for an original opening may not require a permit, cutting into existing framing to add new windows will. Adding to an existing structure, cutting into an existing structure or modifying an existing structure (like moving walls) will require a permit.
The same can be said for electrical loads. The electrical service sized for your original design will need to be re-evaluated when additional electrical load is added to the original service. This is permitted work required to be installed by a licensed contractor. From something as simple as adding an electrical outlet to hooking up a gas stove to adding a new air conditioning unit or exhaust fan will likely require permits. Permitting this work and having it inspected by the qualified authority is only to your benefit.
How Construction Permits are Issued
Your local governing authority will issue construction permits based on the authority's ordinances and current building codes. The best way to determine if your intended scope of work requires a permit is to check with your local authority. Many times the requirements can be found on your city's website through the Department of Building and Planning or through a simple phone call to your local authority's office.

Permit fees may be assessed based on the type and/or value of the work. They can be assessed as a fixed fee or as a percentage of the estimated value of the work to be performed.
While permit application review or plan review may take some time based on your local authority's work load, getting a building code compliant installation up front far outweighs potential risks when a contractor does not pull permits.
A qualified, licensed contractor hired to do the work will know which permits need to be pulled and will include these costs in his estimate. He is then responsible for a quality installation and securing any necessary inspections and approvals.
There may be primary and secondary permits involved depending on the scope of work. The primary permit or building permit would be for the entire scope of the work to be performed by the contractor (if hiring a general contractor). Secondary permits are for subcontracted work performed under the management of the general contractor. These permits would include heating, ventilating, air condition, plumbing, electrical, fencing, concrete, fire protection or any other prime subcontracts.
If you are adding a pool and depending on the type and design, these permits are generally issued by the governing health authority.
Be wary of any contractor who excludes permits from his bid. This should be a warning and a red flag that you need to contract this work elsewhere.
Tagged with: construction permits • do i need a building permit • permits for remodel work • who pulls permits
Filed under: Caution