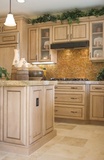 Part of a kitchen renovation is remodeling your kitchen cabinets and/or flooring. How you use your kitchen will help determine the best selection and type of materials to use.
Many times, when we think of a kitchen renovation, we think about resurfacing kitchen cabinets or adding a kitchen island or updating appliances but do you consider the functional aspects of your kitchen?
How you use your kitchen on a daily basis can also help to prioritize the features that need updating versus those that need replacing or new features to be added. As an example, those who eat at a kitchen table for many meals will have different priorities than those who use a dining room or eat in front of a family room television.
Is your kitchen a gathering place when entertaining? What's the ceiling height of your kitchen if you are considering adding a pot rack over a kitchen island — would you have sufficient space to meet minimum height requirements for surface mounted or hanging lighting?
A few things to consider, before diving into the aesthetics of a kitchen remodel are:
How are all tools and utensils organized and placed in direct relation to the space where you will be using them?
How much and what type of traffic does your kitchen flooring see?
Do you have children, toys and pets all taking full advantage of your kitchen flooring at times?
Do your cabinets meet practical and accessibility needs?
Your kitchen remodel design should reflect the way you want to feel when using it, how it suits your lifestyle and also how it appears to guests. An eye-appealing and functional kitchen need not be expensive and can, in fact, be fairly cost effective to achieve.
Benefits of Remodeling Kitchen Cabinets
Remodeling kitchen cabinets and flooring are year after year some of the most popular home improvement projects along with bathroom renovations. Your kitchen is more than just a location to prepare your meals.  It serves as a place to gather with family and to entertain guests. The top reasons to consider remodeling a kitchen are:
Resale Advantage – The money you invest in a kitchen remodel will typically give you an advantage if you plan to sell your home at some point in the future. A kitchen renovation project can increase the price you receive for a resale and decrease the amount of time it takes to sell your home. An outdated kitchen is one of the top reasons a home takes longer to sell.
Best Use of Space – Let's face it, over the last several decades homes have increased in size. Kitchens have evolved from simply being a place to prepare meals to a focal point in the home. Remodeling kitchen cabinets provide better storage options, plus design changes in the room can optimize use of available space for a more efficient flow.
Energy Efficiency – Today's kitchen remodel often includes updating your appliances in terms of finish and functionality. The good news is appliances today are more efficient in terms of energy requirements (see Energy Star) with more user-friendly features than years ago. Using less energy means lower utility bills.
Kitchen Cabinet Functional Considerations
In order to completely makeover your kitchen, a qualified professional can help you make a plan that covers everything that you would like to include. If you're just looking at a simple kitchen renovation, you may only need a few replacements and adjustments…many of which you may choose to undertake yourself.  Here are some considerations to get you started on your kitchen remodel design.
Assess your kitchen space – Even if your budget is small, you can get big results from minor kitchen renovations. Consider remodeling rather than tearing out your entire kitchen. Assess only the "target" areas you want to improve or make more efficient.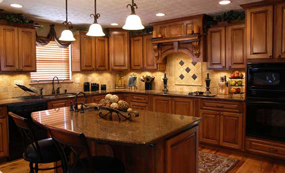 Cabinets frame your kitchen – If you're remodeling your kitchen what to do with your current cabinets will be high on your priority list. If you decide to keep them will you keep the same look or have your cabinets refaced?
In refacing, a thin coat of wood is wrapped around your existing kitchen cabinets. You can choose from a wide variety of veneers including wood grains or pretty much any color you would like.
Laminates are another option to use to reface your cabinets. Then consider adding new drawers, hardware, and update any worn out drawer tracks.
You can also choose to refinish your cabinets, a less expensive option than refacing. You can re-stain your cabinets or paint them and there are a number of new paint finishes and techniques available today.
What is your kitchen's design theme?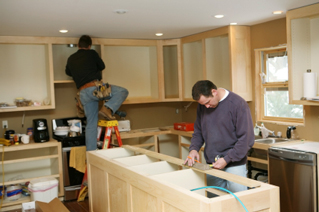 Before purchasing any new cabinets you will need to determine the style your kitchen remodel design will be built around. The existing style of your home will play a major part in the style you choose for your kitchen.
If your home is traditional it might seem out of place to have an ultra modern kitchen design. When you've narrowed the style of cabinets you'll also need to choose a manufacturing style. These cabinet options are:
Stock: Stock cabinets come in defined sizes usually in 3-inch increments. Customization options will depend on those offered by the manufacturer you choose.
Semi-Stock: Semi-custom cabinets are similar to stock but offer more options as far as hardware and finish.
Custom: Custom cabinets have no limitations other than your budget. You can choose your size, color or finish, and materials you want them built from.
From a cost standpoint and in order from least expensive to most expensive you have refinishing, refacing, new stock, semi-stock or custom options.
The Role your Kitchen Flooring Material Plays
Flooring plays several roles in a household. It's functional and it serves as a visual design feature. Some floors are better suited for kitchen and bathroom use like tile and stone while materials like such as hardwoods and carpeting may perform better in other areas. Here are some options to consider:
Hardwood Floors – Wood works well as a flooring option since it is warm under your feet, is easy on the legs, and muffles sound making it a quieter flooring option. One of the downsides of this option for your kitchen remodel design is that wood is susceptible to scratching and water damage.
Laminate Flooring – This offers similar benefits to hardwood floor, but is more durable, less scratch resistant and is easier to maintain. While not as warm on bare feet as wood, it is a less expensive option that can help you stretch your budget. It is easier to install and has one of the best warranties available. As an example, Pergo's laminate floor warranty is 50 years.
Stone Floors – These offer a sturdy flooring option with many color and design options. No two pieces of quarried natural stone are the same. While beautiful, and one of the costlier options for kitchen flooring, it can be hard on the legs and doesn't suppress sound like wood or laminate.
Tile Floors – Like stone, tile can be hard on the legs and does little to dampen sound when compared to wood. Design options are unlimited in terms of color, texture and pattern. Tile holds up well to wear.  Scratches and spills are not an issue. One thing to consider with tile is slip resistance. You will want to ensure the tile you select has a low slip resistance coefficient.
Vinyl Tile – This is your best choice for a tight kitchen remodel design budget. It's easy to install and comes in a limitless number of designs and color selections including the "look" of hard wood floors. Vinyl planks are available similar to wood laminate flooring. Vinyl holds up well to water and wear, but overtime edges can curl and will need re-gluing or replacing based on wear.
Check the Condition of your Floor Slab
Whatever kitchen flooring you choose, one of the most important considerations is the condition of the slab you will be installing the flooring on. When you remove the old flooring, will your floor need to be patched so there are no lumps or pockets when you install the new floor? This is an added cost not generally taken into consideration when budgeting for your kitchen remodel design.
Tagged with: cabinets and flooring • kitchen cabinets • kitchen flooring • kitchen flooring replacement • kitchen remodel • kitchen remodel design • kitchen renovation
Filed under: Build Help