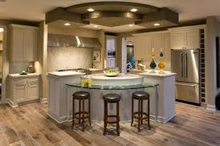 Look up! It's easy for forget the importance of proper lighting in a kitchen remodel design. You spend a ton of time researching cabinets, appliances and flooring and then stick with that same (possibly outdated) flickering fluorescent light that came with the house you bought.
Kitchen lighting (and, yes, ceiling fans) can do more than just bring light to your kitchen; they can also decorate as well as accent the best parts of your kitchen design. Below are tips on how to use lighting to accentuate certain areas of your kitchen by their function.
You will also learn the pros and cons of the light bulbs used in these fixtures.  This information will help you to make the best choices for attractive, yet functional light fixtures in your kitchen renovation. You will even get bonus tips for selecting appliances!
Lighting Essentials in a Kitchen Remodel Design
Good lighting is crucial in the kitchen where you prepare family meals and entertain guests. Many families also use their kitchen not only for meals but also for doing homework, paying bills, playing games at the kitchen table and holiday gatherings. Without proper lighting, it's impossible to effectively handle these tasks in your kitchen. There are many types of kitchen lighting so here are few tips for your consideration: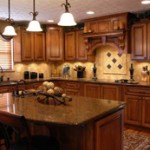 Decide what role you want your lighting to play in your overall design. Some people may just want to see what they're cooking and that might be all they want from their lighting. If you spend a lot time eating in your kitchen and not in front of the television like a lot of people, you may want the power to dim the lighting to create an ambiance. If you have a bigger kitchen, you may decide you want more light in one area over another. Pendant lights used as task lighting would be a good option to consider.
Using fluorescent lighting is very efficient and minimizes the need to change bulbs as it lasts for extended periods without maintenance. Fluorescent lighting uses only 25% of the energy used by incandescent bulbs. Installing these lights work best when the light illuminates your ceiling. Otherwise, you'll end up with an uncomfortable glare every time you turn the light on. If you have a small kitchen and lighter colored walls, this type of lighting works great.
If you want that warm, cozy feeling then think about using an incandescent light bulb.  Buy incandescent lights to endow your kitchen with a warmer, cozier feel. There are two important considerations to incandescent bulbs, however. These bulbs will burn out much more quickly than fluorescent lights because the filaments that provide that glow degrade with use. This type of lighting also generates much more heat than other types of bulbs.
Think about using halogen lights for larger kitchens when you want to decorate with accent lighting or specific task lighting. Halogen lights work well when placed over islands, cabinets or long countertops where you prepare your meals. You can use halogen bulbs in track lighting or directional fixtures. You might consider using Halogen lamps if installing motion control fixtures that you have automatically turn on when you move to a different area of the kitchen. Halogen bulbs, however, are one of your more expensive options to replace.
Use accent lighting to highlight a particular aesthetic element of your kitchen. Adding lighting above or beneath your cabinets is also a way to add a decorative touch to your kitchen. Directional track lighting is a suggestion to cast a light and draw attention to artwork you may have on a wall in your kitchen. Think about adding chandelier lighting or a lighted ceiling fan in a large kitchen setting.
Bonus Tips for Selecting Kitchen Appliances
In any kitchen remodel design what it costs you to replace your appliances will be a large part of your kitchen renovation budget. To say the least, buying appliances can be challenging, having to balance quality and appearance with the rest of the items in your budget. With all appliances, how you intend to use them in relation to the layout of your kitchen should be your first consideration.

Refrigerators – When picking a refrigerator, decide first what capacity you need for food. This is where you'll be storing the food you purchase or cook to feed you or your family. For larger families, capacity and food preservation are important so think about options like dual refrigeration, on door controls, external ice and water availability, and of course, energy savings features.
For singles or small families, it may make more sense to focus on the overall look rather than functionality…if you don't spend a lot of time in the kitchen you really don't require the same features as a larger family. Also think about the location of the internal ice maker. Does the manufacturer's location impact your door or shelf storage giving you less capacity?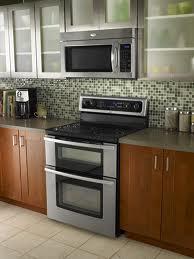 Ovens and Stoves – These should be based how much you typically cook. If you are an experienced cook and spend a lot of time in front of the stove, you'll likely want to spend some extra money for convenience features like a double oven or even a convection oven.
Novice or occasional cookers may be fine with a single basic oven and putting the dollars saved into other parts of the kitchen. If you have a stove top you'll have the option of selecting between induction, gas or electric. For experienced cooks gas, with its fast heat up time and ability to cook under exacting conditions, is a popular choice.
For the more casual of cookers, electric with its slow heat up times, may save you from a burned meal or two. Also think about the existing utilities in your home. Will you need to run gas lines to your kitchen as this will certainly add to your project costs.
Ventilation Systems – If you're completely redesigning your kitchen then you will have to decide whether you want an overhead ventilation system or a down draft system. Where and how will your system be exhausted as this will affect your costs? A small remodel will likely work around the existing kitchen ventilation system already in place.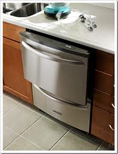 Dishwashers – Similarly to your refrigerator, your family's lifestyle will largely dictate what type of dishwasher will work best in your kitchen remodel. Lower end models tend to have simplified controls, while more elaborate ones will have energy efficiency qualities, hidden controls, and noise reduction features.
Noise reduction is especially helpful in small homes or open floor plans. No one wants to hear their dishwasher running over the top of their television. Some of the newer models have dishwasher drawers for smaller amounts of dishes and can save water usage when you don't have large loads to clean.
You've learned how important kitchen lighting is to your remodel design and what to consider when selecting appliances. Hopefully, this has left you better equipped to continue your design planning and budgeting for that exciting upcoming remodel.
Tagged with: choosing appliances • fluorescent light • halogen lighting • how to pick appliances • kitchen light fixtures • kitchen lighting • kitchen lighting design • kitchen renovation lighting
Filed under: Build Help