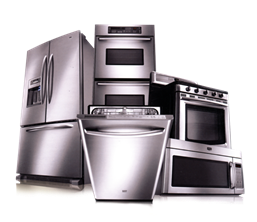 If you're remodeling your kitchen you might be considering kitchen appliance packages since choosing "bundles", with some retailers, promises moderate savings.
While on the surface, the advertised savings may seem an attractive benefit to a ballooning remodel budget, there are some things you need to know before placing that order.
At least you will be better prepared to negotiate for an even better deal on a bundle.
Because most retailers won't share product specifics and the "fine print" unless you ask, here are a few points that may impact your selections.
Caveats to Kitchen Appliance Packages
Many kitchen appliance packages have specific models associated with the bundled price so some of the functions and features you want may not be available in the models for that bundle.
If you find a preferred appliance package bundle, not all of the appliances included in the package may be available for your area or zip code. The retailer may offer a comparable substitution, at their discretion, that may not include all the features of the original product.
Energy-savings is likely something you will consider when choosing new appliances. Not all of the models chosen for that retailers bundle may be energy-star rated, maybe just one or two.
Most retailers, if you are unhappy with one appliance in the bundle after purchase, will charge you a 15% or more restocking fee for that appliance. You may also be required to return it to their closest location to your zip code. The retailer may not accept any returned appliance if it becomes damaged in the return process.
While you will be refunded the discounted price of each bundle item you return, you will be required to pay the difference between each remaining item's bundle price and its non-discounted price on the date of your bundle purchase.
Because some appliance installations require the installer be permitted with local governing authorities, installation may NOT be available for all the appliances in your bundle. As an example, a free-standing refrigerator and range may be installed whereas a dishwasher and over-the-range microwave will not resulting in added cost.
Appliance Selection Tips in a Kitchen Remodel
Before getting to the kitchen appliance packages selection process there a few items to consider that may impact their installation.
Dishwasher Tip
If you're adding a new dishwasher to your kitchen remodel you'll find that most American-made models are a standard 24-inches wide. Staying with American-made may not require any space reconfiguration.
Foreign-made models, on the other hand, like Bosch and Fisher & Paykel are often narrower than their American-made counterparts requiring modifications to the opening where they are to fit.
Cooktop Tip
If you are purchasing a new cooktop or range as part of an appliance package, know that the exhaust system capabilities should match the size of the stove or cooktop below it.
Kitchen exhaust systems, unless they are recirculating and not ducted to the outside, are measured in CFM (cubic feet per minute). The bigger the range or stove, the greater the exhaust capacity of the system. For example, if you're purchasing a 36-inch range it should be matched by a minimum 800 CFM exhaust hood or system — a 48-inch stove would require at least 1000 to 1200 CFM exhaust.
Refrigerator Tip
If you're upsizing a refrigerator as part of your appliance package, know that your food storage capacity is measured in cubic feet but your best placement is measured by its width.
How wide a new refrigerator is when placed in an opening, next to counter space or doorways may impact your model selection.
New more energy efficient models will not require the same clearance for air circulation around the unit as older models but you will still need, as a standard, 2-inches on each door side to allow it to swing open.
Electrical Wiring Note
Finally, depending on the age of your home, you may need to upgrade electrical wiring or capacity of your electrical sub-panel to support any added electrical load of any new appliance packages you're considering.
Be sure to check the current load on your electrical panel to ensure sufficient capacity is available — the last thing you want to be doing is tripping breakers.
Tagged with: appliance package • appliances • kitchen • kitchen appliances • kitchen remodeling • remodel
Filed under: Caution