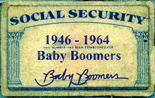 If you're not familiar with the phrase "aging-in-place", you may be soon. We've all heard how much the U.S. Baby Boomer population is increasing with a current estimate of approximately 77,000,000 in the US alone today.
And with that comes an image of older consumers "winding down" as the years progress and simplifying their lives and homes.
According to AARP this is a myth and just a mere 6 percent of Boomers are planning to be living in a smaller residence five years from now.  This means that at least 76% plan to live either in their current home, a new home of the same size or a larger home.
As the "Boomer" group continues to expand, more and more are interested in remodeling their home to fit their new lifestyle and abilities because aging at home is preferred.
Aging-in-Place Defined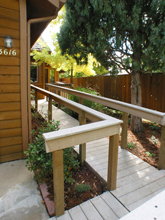 What this terminology means is that your home is built or remodeled to fit your individual lifestyle needs as you become older. Statistics shows that one of the most important aspects of aging is the ability to live independently. Considering aging in your existing home as an option when remodeling means you are creating an environment in your home that is obstacle or barrier free.
Stairs, steps, elevations or slopes can be made more accessible. Narrow passages, raised thresholds, constricted walkways can be modified. Your physical living space is adapted to promote safety, security and independence without compromising the integrity of your home's design or its aesthetics.
The National Association of Home Builders has established three basic categories in Adaptable Design for Aging-in-Place. These categories are:
Accessible Design – This serves individuals that have a physical disability by modifying key traffic areas and space that makes it easy for the disabled individual to navigate the home with ease and in comfort.
Universal Design – The design covers the greater Boomer population by using products and methods that will accommodate just about everybody.
Visitability Design – This focuses on individuals with wheelchair accessibility issues and the ability to navigate ground or first floor areas.
What is a Certified Aging-in-Place Specialist (CAPS)?
Simply, this is a new construction contractor, remodeling contractor or home building contractor that has been educated, trained and certified to assist you, as a homeowner, in understanding the guidelines and requirements of accessibility to ensure your home is safe, functional and attractive. They then prepare a design based on these principles. These contractors are certified through the National Association of Home Builders and will be trained to:
Distinguish between the 3 different Adaptable Design Groups when evaluating potential work in a given market
Understand the contractual and legal aspects associated with providing design solutions to you as the homeowner
Adequately identify, assess, and prioritize your needs while also incorporating your wants and wishes into the design
Estimate and schedule your project, adapting specifically to any unique considerations you may have
Work to complete the project with minimal disruption to you while you are still living in your residence
What are some of the Design Considerations?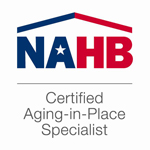 While everyone's situation will be unique, many of the design considerations will reflect your personal needs and potential future needs.
This may include your immediate household or the addition of a senior parent or grandparent.  Your designer will have a clear understanding of any personal impairment whether light, moderate or severe.
The CAPS Certified professional will fill out a complete assessment noting any one or all of the following potential physical limitations for anyone living in your home:
vision
hearing
sense of feeling in arms or legs
use of hands
hand, arm and leg strength
balance
reaching and stretching ability
breathing
coordination
awareness/understanding
They will also review your home or rooms in your home like entries, doorways, hallways, stairs, bathrooms, kitchen, living spaces, storage areas, utility areas and garage areas. The short video below details the trends for aging at home and why this is now becoming a popular option in home remodel.
How do I find a CAPS Contractor?
The National Association of Home Builders has a directory of professional remodelers with CAPS certification that you can visit to see who is available in your area. CLICK HERE to access the directory.
If you are considering safe and accessible options for your home remodel, then a CAPS certified contractor or contract specialist for Aging-in-Place may just be able to help you create the perfect living environment that works for you and/or your loved ones and keeps you in your home, living independently, for years to come.
Tagged with: aging at home • aging in place • caps • caps contractor • certified aging-in-place specialist • living independently • NAHB Caps Certified
Filed under: Build Help